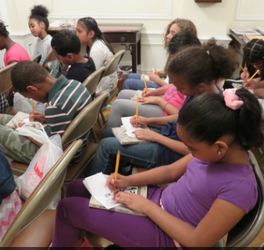 Comic Workshop with Deb Lucke
(For ages 8 and up)
Workshop is meant to encourage creativity.
Workshop opens with short reading from Deb's graphic novel, The Lunch Witch, and a discussion about where ideas originate. Then, Deb will show students her accordian book method for turning those ideas into a story.
Each student will make their own book which allows kids to learn narrative structure in a physical, fun way. They will each come up with a small problem that they will draw on the first panel. Deb will work with them individually and as a group to turn that problem into a bigger problem to which their character must respond and then an even bigger problem until a climax occurs. Ideas will be tossed around about how to end the story. Or how to have a surprise ending. Panels of book can be added or deleted to make the narrative seem inevitable. The structure aslo encourages ​ kids to think about what they need to show for the viewer to understand the story. Drawing skills are appreciated, but not needed. (some of the students' work is attached below)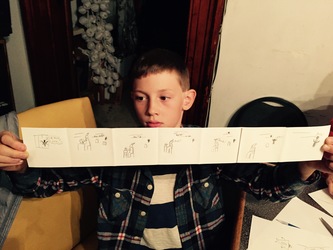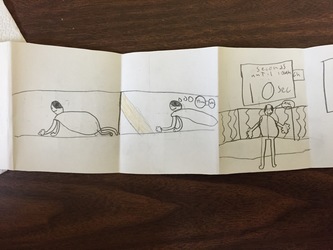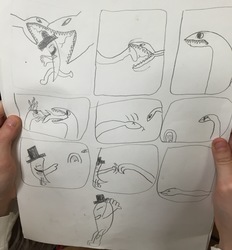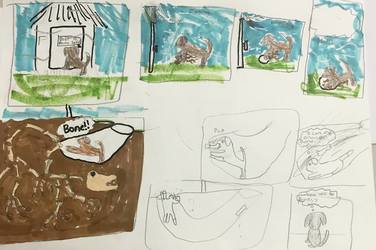 Workshop is 1 1/2 hour long. Cost is $1000. + travel.
LINK TO VIDEO SHOWING ACCORDIAN-BOOK METHOD
Above images from workshops at The Center for Fiction. Bard College, Compass Arts, Garrison Art Institute, Hopewell Junction Library, Howland Library, Butterfield Library, Forestal School, PS 63 and Neighborhood School, Thomaston Middle School, The Meadownbrook School, and many others.